AREAWAY
A sunken area in front of basement or cellar windows, or leading to a basement entry.
ASPHALT ROOFING
A hard-wearing shingle roofing material composed of petroleum by-products mixed with a granular stone; also called Duroid roofing.
BALCONY
A balustraded or raised and railed platform projecting from a wall of a building.
BALUSTER
One or a number of short vertical members used to support a stair or balcony railing. May be turned wood spindle or a stone column, either square or with a varying round profile.
BALUSTER
One or a number of short vertical members used to support a stair or balcony railing. May be turned wood spindle or a stone column, either square or with a varying round profile.
BALUSTRADE
An entire railing system, as along the edge of a balcony, including a top rail, bottom rail, and balusters.
BANISTER
A handrail for a staircase, also referred to as railing.
BARGEBOARD
Also called a vergeboard, a board or other decorative woodwork fixed to the edges or projecting rafters of a gabled roof.  When perforated or turned elaborately, also called gingerbread.
BASE
As the lowest element of the column, the base helps to distribute the load from the shaft over a large surface area.
BAY
Part of a building marked off by vertical elements such as pilasters or columns – a projecting bay sticks out from a building's elevation.
BAY WINDOW
Distinguished through an outward projection from the façade, bay windows are characteristic of Victorian, Edwardian and Queen Anne Revival houses. Each of these bays may have one or more sash windows, which are traditionally built with a wood frame. Smaller panes of glass divided by glazing bars are generally found within the top sash, while the bottom sash may only have one sheet of glass.
BELLCAST EAVE
An eave that curves, or flares, outward like the flanges of a bell.
BELT COURSE
A horizontal band on the façade of a building, usually indicating the floor level behind it. Also called a belt line or stringcourse.
BEVELED GLASS
A type of glass that is cut at angles (beveled) to create decorative patterns on windows and doors; commonly found on Victorian, Edwardian, and Craftsman homes.

BOARD AND BATTEN SIDING
An exterior treatment of vertical boards with battens covering the seams. Battens are thin strips of wood applied vertically.
BRACKET
A structural member, often triangular in form, that projects from a wall or other vertical surface to support another component, such as an eave. Some brackets are purely decorative and have no structural or supporting function.
BUTTRESS
A flying buttress is a masonry support built against a wall, to support or reinforce pressure of a vault or arch, which stands apart from main structure and is connected to it by an arch. False-buttresses imitate the look of a flying buttress without providing structural support.
CAME
A slender rod of cast lead used in casement and stained-glass windows to hold the panes of glass in place.
CAP
Similar to a newel cap, this element is found on the top of the first railing post of a stairway.
CAPITAL
The decorative head of a column, pilaster, pier, or other vertical support.
CASEMENT WINDOW
An operating window hinged on one side which swings either in or out (usually out).
CATSLIDE ROOF
A roof that slopes very low, often nearly to the ground.
CLADDING
Also referred to as siding, cladding is the outermost layer of the wall system, providing resistance to the natural elements and acting as a control device for drainage. Depending on the house style, various kinds of stucco, horizontal, vertical boards, and shingles may be used as cladding.
CLAPBOARD SIDING
(Pronounced "kla-bord") Overlapping horizontal boards used as siding on wood-framed houses. Often wedge shaped with the narrower edge on the top.
CLERESTORY
A row of windows located near the top of the wall or touching the ceiling. A distinguishing feature of mid-century architecture.
CLIPPED EAVES
Eaves that do not overhang the face of a wall by more than the width of the gutter.
CLINKER BRICK
Overfired brick with textured surface, often used for detailing on Craftsman houses.
COLUMN
A supporting post, generally round. In classical orders, the column consists of a base, shaft, and capital.
CORBELLED CHIMNEY
A chimney in which the upper portion consists of projecting courses of masonry, each one higher than the other.
CORNER BOARD
The vertical finish boards (or trim boards) that overlap the siding at the exterior and interior corners of a house.
CORNICE
Any crowning projection of a building.
CRENELLATIONS
Parapets topped with alternating indentations and raised portions, which were originally used for defense but are often simply decorative.
CROSS-GABLED ROOF
A roof type in which the major gables intersect at the ridgeline, with a major open gable projecting from the façade.
DECORATIVE GLAZING
Stained, beveled, or leaded glass glazing that is separated by "cames" (slender grooved bars of lead) and which appears in windows and doors.
DENTIL RANGE
A small, tooth-like square block, used in a horizontal row as a decorative feature on a cornice or fascia board.
DOOR FRAME
The assembly that is attached to the surrounding structure of a door, holding it in place.
DOOR TRIM
The moulding that surrounds the doorframe.
DORMER
A glazed (furnished with glass) structure with its own roof that projects from the main roof of a building or acts as a continuation of the upper part of a wall so that the eave line is interrupted by the dormer (a wall dormer).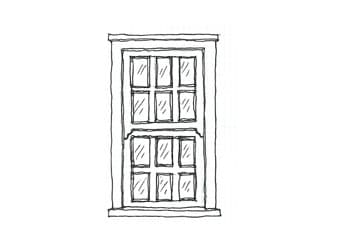 DOUBLE HUNG WINDOW
A pair of superimposed wooden sashes that are offset so as to slide up nd down within the same frame.
DROP SIDING
Siding that has a deep cove at the top which when overlapped exposes a cove or shadow line between courses. Usually with a tongue and groove (or tenoned) upper edge for a flat planked look.
EAVE
The lower edge of a roof that projects beyond the face of a wall.
ELEVATION
A face or façade of a building.
ENTABLATURE
A band of horizontal elements above columns in Classic architecture, usually divided into cornice, frieze, and architrave.
EYEBROW DORMER
An arched roof dormer with no side walls; the roof simply curves to follow the arch of the window.
FAÇADE
The front or principal elevation of a building, which depending on the house style, may vary in degree of stylistic detail. Sometimes other elevations may be considered facades, but the term usually refers to the front.
FANLIGHT
A window above a door or another window – rectangular, semi-circular, or semi-elliptical, usually with glazing bars radiating out like a fan. (see transom).
FASCIA BOARD
The finish board covering the ends of rafters. Usually used to attach to the gutters.
FINIAL
An ornamental projection at the top of a gable, roof, or other high component.
FISHSCALE SHINGLES
Overlapping shingles with a half-round bottom edge used for roofing, siding, and decorative panels on the upper part of a house.
FLAMBOYANT DORMER PARAPET
Using molded stucco trim, the parapet wall ends up in a baroque or convoluted top trim (flamboyant is a gothic term meaning flame-like).
FOUNDATION
The portion of a building that extends below the ground, providing a firm base for the structure above.
FRENCH DOORS
A pair of glazed doors that open out in the middle and are hinged to the doorjambs.
FRETWORK
Ornamental woodwork – usually in a complicated, repeating geometric pattern. (see gingerbread).
FRIEZE
A horizontal piece (such as a board) covering the joint between the top of a wall and the projecting eaves of a roof.
FRONT STAIRS
Bridging the porch and street, the front stairs (or "entry stairs") provide easy access to the home through the use of treads and risers. Staircases are found in a number of configurations on the façade in response to accessibility and style.
GABLE DORMER
A dormer that has an open triangular façade covered by a two-sided roof form.
GABLE ORNAMENTATION
Wood detailing often found on the front-facing gables of Victorian and Queen Anne homes. Gables may be ornamented with 'sunburst,' 'scrollwork,' or 'stickwork' motifs and may include 'fishscale,' 'diamond,' or other kinds of shingle patterns.
GABLE ROOF
A pitched roof that ends in a gable  (the triangular portion of a  wall defined by the sloping edges of the roof and a horizontal line between the eave line).
GAMBREL ROOF
A ridged roof having two slopes on each side where the lower slope is steeper than the upper (also called a "barn" roof).
GINGERBREAD
A variant of fretwork. Elaborate or showy ornamental detailing around rooflines, windows and porches with perforated and/or turned wood elements.
GRADE
The surface or level of the ground—a structure that is built at grade has no space between the ground and the structure.
HALF-TIMBERING
Decorative trim boards used in conjunction with stucco cladding to evoke medieval half-timbering.
HARDWARE
The mechanical elements of a door including hinges, knobs, locks and sometimes a knocker. A mail slot and peep hole may also be found built into the door.
HIP ROOF
A hip (or hipped) roof slopes down to the eaves on all four sides. Although a hip roof has no gable ends, it may have dormers or connecting wings with gables. When the building is square, the hip roof is pointed at the top like a pyramid. When the building is rectangular, the hipped roof forms a ridge at the top.
HORIZONTAL BANDING
A feature of Modern architecture that emphasizes the horizontal lines of a building.
INTEGRAL PORCH
A porch that is set under the main roof of a house, rather than projecting out from the house.
JERKINHEAD ROOF
A ridged roof with "clipped" edges over a gable often found in Tudor Revival and Interwar Arts and Crafts houses. Also known as clipped gable or half-hipped.
LAP SIDING
Beveled siding that overlaps on an angle and is wider and longer than Clapboard.
LEADED GLASS
Decorative glass where each pane is set between cames (slender grooved bars of lead).
LIGHT
A pane of glass, as in a window light, or the whole sash, as in a skylight.
LINTEL
A horizontal beam or stone bridging an opening, most often a door.
MANSARD ROOF
A roof having two slopes on all four sides. The lowest slope can be curved but is always close to vertical, and the upper slope is always close to horizontal. Historically, the mansard roof was used to obscure the presence of another full floor for French tax purposes.
MULLION
A vertical post, frame, or double jamb dividing two window sashes or large panes of glass. Not to be confused with muntin.
MUNTIN BARS
Also known as glazing bars, the cross pieces dividing the panes of glass within a window sash. Not to be confused with mullion.
NEWEL POST
An upright post that supports the handrail of a stair. In stairs having straight flights it is the principal post at the foot of the staircase, but it can also be used for the intermediate posts on landings and at the top of a  staircase. It is usually larger or styled more elaborately than the balusters (pickets) on the rest of the railing.
OPERABLE SHUTTERS
Shutters that are usually mounted on door or window trim so that they close completely over the door or window opening.
ORNAMENTATION
Decorative features used to accent particular components of a building.
PANE
A framed division of a window that is usually filled with a sheet of glass.
PANEL
A decorative element that is usually formed on the surface of a door with the use of channeling and moulding. A door may contain a number of panels, lined horizontally or vertically in accordance with the design and feel of the house.
PARAPET
The extension of a masonry or stucco wall above the roofline.
PARAPET RAILING
Found usually on Edwardian and Craftsman style entry stairs, the treads and risers are contained within boxy end walls with lap or shingle siding.
PEDIMENT
The triangular end of a gable, or a triangular ornamental element resembling it. A similar feature is found above doors and windows.
PICTURE WINDOW
A large horizontal single light window placed on the front wall of the living room.
PICTURESQUE AESTHETIC
A philosophical movement based on a reaction to formal Classical Revival style architecture, embracing more romantic styles such as Italianate and Queen Anne Revival.
PIER
A square, sometimes tapered (as opposed to round) column.
PILASTER
A shallow pier or a rectangular column projecting only slightly from a wall. Primarily decorative.
PILLAR
See 'Column.'
PORCH
A covered platform, usually with its own roof, attached to a building, serving as a covered entryway. May be limited to covering the front door area or may extend along the full length of the façade.
PORTICO
A roofed entrance porch supported on at least one side by columns.
POST-AND-BEAM
In simplest form, construction that involves vertical posts holding up horizontal beams. Usually associated with West Coast Modern architecture as a building style where the structure is openly expressed.
PURLINS
A piece of timber laid horizontally on roof's primary rafters to support common rafters on which roof covering is laid.
QUOINS
The dressed stones at the corners of buildings, usually laid so their faces are alternately large and small. Also used around doorways in French Storybook, Norman Revival and Tudor Revival houses.
RAFTERS
A sloping roof beam. The portion of rafter that projects beyond the exterior wall is called a rafter tail– usually covered, but exposed rafter tails are a characteristic of Craftsman/Arts & Crafts architecture.
RAIL
A horizontal frame of a door, window sash, or panel. (A vertical frame is called a stile).
RAILING
Also referred to as a banister, railings typically flank the stairs, providing guidance and security for those using the staircase.
RISER
The vertical portion of the stairs, which are found between the treads. Risers may or may not be installed depending upon the needs of the homeowner.
ROLLED EAVES
A characteristic of storybook homes, eaves (usually shingles) rolled over edges to mimic thatching.
ROOF SKIRT
Small section of roofing between the stories of a building.
SASH
The sash is the framework that contains a sheet of glass, or a number of panes, in a window or door; often associated with double hung and casement windows.
SAWTOOTH SHINGLES
Shingles with a diamond-shaped bottom edge. Used as siding, roofing and decorative detail in panels.
SCREEN DOOR
Consisting of a framed netting that allows for ventilation and prevents bugs from entering the home.
SHAFT
Situated between the capital and base, the shaft forms the largest part of the column.
SHAKES
A wooden shingle that has been split on both ends, as opposed to sawed, giving it a more rustic look.

SHED DORMER
A dormer with a single plane sloping roof.
SHELTERING ROOF
A roof that includes living quarters or useful space in its volume, not only underneath it, with which people come into contact daily.
SHINGLES
Placed in an overlapping fashion, shingles can be installed as cladding, or on a roof. Though traditionally wood, shingles may now be made from a wide range of synthetic materials.
SIDELIGHTS
One or more vertically framed windows that flank a door, often divided into several lights.
SLEEPING PORCH
Built with the idea of providing a cool place to sleep during the warmer months, the sleeping porch was often screened in for protection from the elements. Though generally an extension of the upper floor, some may be found on the ground level as well.
SLIDERS
Vernacular term for sliding metal framed doors.
SOFFIT
The underside of an eave, beam, or other component.
SPANISH TILE ROOFING
Terra cotta or concrete semi-circular tiles with an overlapping edge.
STAINED GLASS
Glass given a desired colour in its molten state or by firing a stain into the surface of the glass after forming; used for decorative windows or transparent mosaics.
STILE
The vertical frame of a door, window or panel (see rail).
STRINGER
A structural member of the stairs that supports the treads and risers, though is often concealed behind cladding. Depending upon the width of the stairs, more than two stringers may be found supporting the staircase.
STUCCO
An exterior finish, usually textured, made up of Portland cement, lime and sand, mixed with water.
TRANSOM
A window or light above a door or window.
TREAD
Commonly referred to as a step, the tread is the horizontal portion of the stairs.
TRIM BOARDS
Wooden boards that are typically used to illustrate the separation between floors and accent other components on the exterior such as windows and doors.
TURRET
A circular or polygonal projecting bay or structure, usually with a steep pointed roof.
TUSCAN POSTS
A style of simple column with plain shafts and smooth, round capitals.
VERANDAH
A covered porch wide enough for sitting or dining which wraps around a house on two or more sides.
VERNACULAR
Building styles built by non-architects, usually based on local needs, materials, and traditions.
WALL DORMER
A continuation of the upper part of a wall so that the eave line is interrupted by the dormer.
WATER BOARD
The horizontal trim board typically found at the junction between floors. With its upper section tapered in towards the structure, these boards direct the flow of water away from the house.
WATER TABLE BOARD
A board placed in front of the siding which indicates the level of the first floor. Similar to the belt course that sits in front of the level above it (see water board).
WINDOW BOXES
Decorative containers for flowers and plants usually placed or attached under windows.
WINDOW TRIM
Also known as the casing, the trim that surrounds the window opening. Depending on the style of the house, the trim may be an elaborate moulding, or simply the exposed frame.
WRAP-AROUND WINDOW
A series of windows that wrap around the corner of a house in a continuous module. A common feature on Moderne houses.